Do you need professional online dating photos?
No. You certainly don't need professional online dating photos for your Tinder profile, but it helps. I've seen people check their Tinder profiles. It takes them a couple of minutes to go over 50+ profiles. That's a few seconds per profile on average. Some of the profiles are swiped left immediately. That person paused on the better ones to check the other pictures and sometimes, but not always, read the actual profile content.
She said that reading the description in the profile is just another filtering process, to weed out people she didn't want to meet, even if they looked ok. So, according to her, the profile description can only hurt your chances for a date. When I asked her why the profile didn't matter so much to her, she said that she is not interested in people's own opinions of themselves. She wanted to judge for herself what type of a person they are, if and when they actually meet. That sounded a bit cold, but not illogical.
But, what happens to all these people she swiped left, and never bothered to read their profile. She said, physical attraction may not be the most important thing in a relationship, and a lot depends on the character and personality, but she would not even consider anyone she is not attracted to. At least a little.
That brings me back to the whole idea of getting professional portraits for Tinder and other online dating apps.
Do you need professional portraits as a man?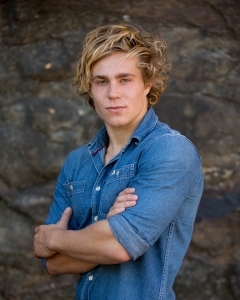 If you're a man and 8 or above in looks, then a selfie against a bathroom mirror will do the job. Unless of course, you are really awkward in front of the camera. If you are below 8 in looks, which is a vast majority of us, a good portrait will help. There is a lot of competition out there, and you need to stand out a little from the crowd to be noticed.
When I first started taking online dating portraits, I tried to make sure that the images didn't look too "professional". I didn't want men to look like they were trying too hard. I chose the aperture of my camera to blur the background a little, but not so much as to let everyone know that a professional photographer took these pictures. They needed to look like they were taken by just a friend with a phone camera.
These days, I don't play that game anymore. IPhone has an amazing photo app, that creates images with a great blurry background. This is not done optically, it's generated in software, but not many people can tell the difference. So, I shoot my clients with the best camera glass to make sure they do stand out. They always look sharp against a blurry background. I make sure they have great light illuminating their faces, and that they fill the frame properly. This will give them the best chance to be noticed among hundreds of other dating profile pictures.
What no camera and no app can offer though, is good posing. I think that this is my most important skill as a professional photographer. Get the right angles, the nice facial expressions, elicit a cool attitude. And of course, find the right light to get the best out of my clients while keeping the session friendly and relaxed. I don't over-pose anyone in those sessions. I still want the images to look authentic, and I don't want them to look like studio shots. I will throw in a few "modeling" images. Just to make the person look cooler, but nothing extravagant.
Yes, I want the men to look cool. That is my main goal. It's challenging at times because most of us do not take thousands of selfies to test what looks good. Most men I photograph have no pictures of themselves at all. It's just not something that we do. So it usually takes a bit of work and time to get rid of the stiffness out of my male clients, but it's worth it. Most men, if not all tell me that they actually enjoyed the session and feel quite good about themselves when I showed them their images at the back of the camera.
Do you need professional portraits as a woman?
I have to say that a lot of women can get away with just a few selfies. I'm not saying that a professional portrait isn't going to make them look better. What I noticed is that no matter what kind of
images women post on Tinder, they will still get matches. This is certainly not true for men. And this may also have something to do with the way men and women search for partners. I'm no sociologist, but I think women may be a little bit more selective when it comes to that. I think they don't go for quantity, they still prefer quality.
While it looks like women have it easier to attract partners, the competition for high-value men is very strong. Especially on websites like EliteSingles.com, which a lot of my female customers use. Men are visual creatures, so a good portrait is a must. Again, if you are a 9 or a 10, well, first of all, you will probably not be on Tinder, but if you are, then pretty much any image will do. And if you are a 10, then you have tons of great images to choose from already. This article may be useful for the rest of the world.
The way I photograph women differs from the men's portraits, but I don't over-complicate the process. I shoot men to look cool, and women to look beautiful. That is pretty much it, in theory. In practice, I always start with good light and a nice background. Once I have a good spot I try poses that accentuate the curves. I go for feminine beauty in the poses and cuteness in the facial expressions.
Again, new iPhones can create good-looking images, but they can't pose the subject. A bit of direction is what can transform an ordinary snapshot into a very attractive portrait. I think the ability to pose people is the main thing now that good photographers can offer their clients. I don't over-pose women either, as I want the portraits to look authentic, but women can get away with modeling poses much better than men. And why not have a bit of fun during the session. They may not necessarily use these images for their portfolio, but they are great for Facebook or Instagram.
I am not sure if I convinced anyone to get a professional photographer for their online dating pictures. Let me know in the comments, and if you have any questions, use the Contact page to email me. And you can check a few of my images on my online dating portfolio page.
https://www.candidtown.com/wp-content/uploads/2021/06/Online_dating_tinder_photos_681.jpg
720
1080
Jay
https://www.candidtown.com/wp-content/uploads/2021/05/candidtown-logo.png
Jay
2021-06-21 10:11:03
2022-10-27 10:01:27
Do you need professional online dating photos?